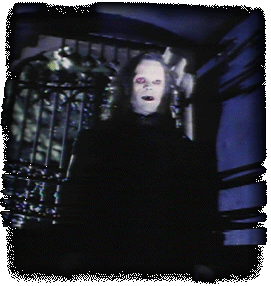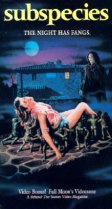 In 1991 Full Moon Pictures put together a low budget film about three female students in Romania who happen upon an ancient and sinister vampire. This movie is a wonderful example of how imagination, good acting and beautiful scenery can save what might otherwise have been mundane. Especially Anders Hove's portrayal of the evil Radu. He remains to this day my favorite movie vampire.
Filmed entirely in Romania, this trilogy is charming and worth the couple bucks you'll spend to rent it. When I first watched Subspecies it was like finding a gem and I've been big-time into these pictures ever since...Thus, my Subspecies page.
Subspecies opens when Radu comes home to claim the Bloodstone, fabled to drip the blood of Saints, from his father. (Angus Scrimm, of Phantasm)
Meanwhile, Radu's half-brother, Stefan, plots a way to take back the the powerful Bloodstone from the evil Radu. and becomes aquainted with our three lovelies....Especially Michelle.
When Radu claims the girls, Stefan faces his powerful brother to save them....But not before he's infected them with his blood. When Radu is defeated, Stefan decides to give Michelle his blood so that she won't be like Radu. As the sun starts to rise the two lay down to sleep. The end....Or is it?!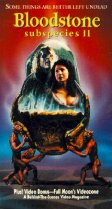 The first of the two back-to-back filmed sequels was released in 1993 and titled Bloodstone: Subspecies II. Anders Hove returns as Radu and is paired with the beautiful Denice Duff in the role of Michelle.
In Bloodstone Michelle struggles with her hunger and her new abilities while her sister, Becky, (played by Melanie Shatner) tries desperately to find and save her sister from the evil Radu and Mummy, Radu's powerful, sorceress mother.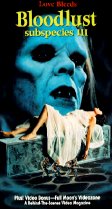 As mentioned before, the second two movies of the trilogy were filmed back-to-back and thus have much the same ambience. Bloodlust: Subspecies III picks up right where the second film leaves off. Anders Hove reprises his role of Radu and we are also rejoined by Denice Duff and Melanie Shatner.
Michelle is swept away to Radu's family castle and Becky, with the help of some friends, plan their attack.
Meanwhile, Radu grows ever more enamored of Michelle and is schooling her in the ways of the vampire much to Mummy's dismay.
The mortals' siege of the castle ends a stand off. Will Michelle turn on her mentor or her sister?

In 1997 Full Moon brought us The Vampire Journals. It is not part of the Subspecies trilogy, but is related in that the main evil vampire in the one, Ash, (Jonathan Morris) is revealed to be Radu's offsping.
The Vampire Journals is the chronicle of a young do-gooder vampire (David Gunn) out to kill the first of his bloodline, thereby ending his own life and that of other blood drinkers. (Radu is believed to be dead, by the way.)
When Ash takes our young do-gooder's mortal love the battle becomes even more personal and he must face all of Ash's coven.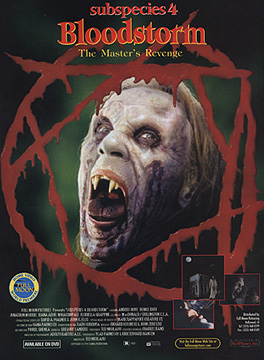 The long awaited fourth episode in the Subspecies series is finally out. Anders Hove and Denice Duff reprise their roles in Bloodstorm: Subspecies IV.
Once again picking up where the last movie left off, Michelle finds herself in the hands of a Doctor who promises to cure her vampirism. Radu takes sanctuary with Ash (much to his terror) and plots his revenge. But when he senses Michelle in immense pain he goes to rescue her.
While much scheming goes on for the Bloodstone, Michelle must decide to follow her heart or her blood, which screams for Radu.

Moira, Radu and Lillian in Subspecies
Radu and Michelle in Bloodlust
Ash and others in The Vampire Journals
Another vampire feeding in The Vampire Journals

Subspecies Links:
Radu's Blood Bath
The official Full Moon Pictures site
Denice Duff's official page
mainIdead can danceIdrawingsIgigerIlinksImotherdark greetingsIpramsIprofileIwebrings