from the Biomechanoid series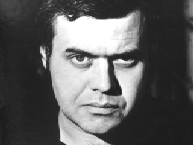 H.R. Giger has to be one of the more phenomenal modern artists. His work is unlike anything anyone had produced before. Giger's, generally airbrushed, art can be simultaneously horrifying and beautiful.
Born on February 5, 1940 in Chur, Switzerland, Giger has been been painting since the sixties, but gained notoriety for his designs in Alien, for which he won an oscar. Those designs carried over into the Alien sequels.
(I won't mention the recent snub given him in the Alien: Resurrection credits) His designs can also be seen in Dune and Species. Emerson, Lake and Palmer has an album cover showing his work and for those Danzig fans out there, the cover of Danzig III is Giger's "The Master and Margarita".
The Official H.R. Giger site






mainIdead can danceIdrawingsIlinksImotherdark greetingsIpramsIprofileIsubspeciesIwebrings